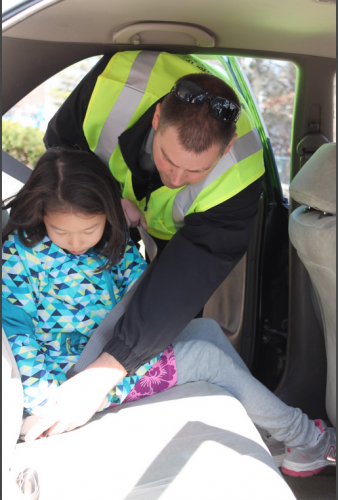 Yale Housing held their first ever Buckle Up for Life event last month.  They teamed up with the Yale New Haven Hospital's Injury Prevention Department who held a 45 minute class on car seat safety.  Those attending the class were eligible to receive a free car seat for each of their children.  Many were able to replace current child restraint devices that were outdated or not age/size appropriate.  Those who couldn't attend were able to register to get current car seats inspected and properly installed by the YNHH Team.   
According to the CDC only 2 out of 9 children are in the correct car seat.  The YNHH Team weighed and measured the heights of all the children thus insuring that each seat was the proper size with proper restraint.  It helped that the weather was mild and sunny making for a great turnout.  The event was held in the parking lot of the Whitehall Apartments on Prospect Street with the class held in its meeting room.
This event was open only to Yale Graduate Students many who live in graduate housing.  YNHH provided 20 new car seats to those who attended.  Yale Housing hopes to make this an annual event.