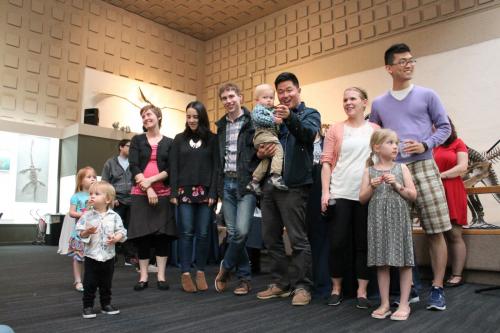 Yale Housing wrapped up a successful year with the third annual End of the Year Celebration at the Peabody Museum on the evening of May 17th.
Graduate students, families and friends enjoyed an evening of delicious food, great company, and the newsiest museum exhibits. Throughout the evening, guests were accompanied by harpist, Deanne Cox, a Yale graduate student in the school of Forestry and Environmental Studies.  
All attendees were entered into a drawing for valuable door prizes such as gift cards to local eateries and shops, Yale memorabilia, and small electronics. Throughout the evening, many guests took advantage of the photo booth at the event, and younger attendees enjoyed an arts and crafts area.
The Yale Housing office was excited to introduce a mobile survey software application, oVote, to graduate students. oVote was developed by Yale students in the School of Management and Yale Housing hopes to use it as a student engagement tool. Over the evening, attendees were prompted with questions regarding their experience with graduate housing and were able to answer via the app on the mobile devices. Learn more about oVote here: http://www.ovote.co/.
To see more pictures of the End of the Year Celebration please click here!