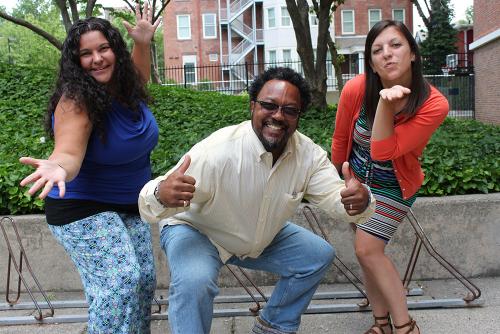 The Yale Housing office on the first floor of Helen Hadley Hall is a bustling place.  Staff are on the phone, or running to do an inspection, students stop by with questions or to pick up a package. Outside the front door the Yale Shuttle stops to pick up some housing residents and zooms away with a roar.
Yale Housing and Residential Life Programming is run by a small team of fun loving and caring individuals. This tight-knit group manages Yale's on-campus housing including eleven dormitories and apartments for about 1200 graduate students and their families.  Recently, three new members joined the team, Katlyn St. Marie, Nicole Copeland and Lorenzo Byam.  These three positions became open because of two retirements and a transfer, and by happenstance, all three started within a few weeks of each other. Nicole and Lorenzo transferred from other departments within the University while Katlyn came from Quinnipiac University.
Katlyn St. Marie is Yale Housing's Manager for Residential Life.  She will oversee residential life components for all the dormitories and apartments.  That includes managing the resident coordinators, developing programming and building a sense of community for all the residents and their families living on and off campus. At Quinnipiac, Kate worked as a residential hall director with first-year undergraduates living right inside the dormitory. Kate, as she likes to be called, graduated from Fairfield University and Nova Southeastern University with degrees in Psychology and College Student Affairs, specializing in conflict analysis resolution.  After 5, Kate is married with a toddler, she and her small family just bought a house which is a big change after years of dormitory living.  "Everyone here has been so welcoming, and it's been fun getting to learn about the Yale campus and the City of New Haven," said Kate.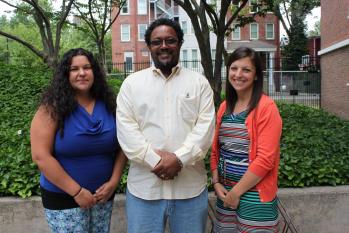 Many people reading this may recognize Lorenzo Byam, Yale Housing Operations Adm Assistant, who for the past half-dozen years has been a Yale Security bicycle officer with a beat covering the central and medical campuses. Lorenzo started at the Yale Art Gallery as a security supervisor through Securitas and was later hired as a full-time Yale security officer working second shift. Prior to that, he worked for 20 years as a corrections officer in the New Haven and Cheshire Correctional facilities. While there he worked in operations and disciplinary investigating. In his new role, he will be assisting in managing the housing operations for the dormitories and apartments including maintenance, general upkeep, inspections, triaging facilities repairs and key distributions.  He will work closely with the entire housing staff and the housing residents helping them resolve their housing issues.  "I love working with the Yale community it has a very positive atmosphere and it's nice to be able to help people resolve their problems big or small.  I also am happy to be on day shift so I can enjoy being with my family and getting to church on time!" said Lorenzo. He has an Associate's Degree in General Studies from Gateway College.  After 5, Lorenzo, who is married with 4 boys and 3 grandchildren, is an avid chess player and a deacon at Trinity Temple Church of God and Christ.
Nicole Copeland, Yale Housing Office Assistant, has been at Yale since 2009 working in the Yale Cardio Vascular Research Department as an Animal Technician at the Yale Medical School. Nicole will be managing the ES Harkness Dormitory doing room inspections, maintenance requests and be the main point of contact between the residents and the main Yale Housing Office.  Prior to Yale, she worked as a property manager in New Haven. She coordinated leases, inspections and met with groups like the CT Mental Health Department to help their patients find apartments and financial aid. Nicole or Nikki, as she likes to be called, has an Animal Science Certificate from Lyman Hall. She also studied criminal justice and forensics at Post University. "I'm really excited about being on the Medical School side again, and I really enjoy working with people from diverse backgrounds and cultures. Being a former property manager, I feel this position is a really good match for me," said Nikki.  After 5, Nikki who is married with 3 children ages, 7, 8 and 9 is very busy whisking them about to various sporting events including basketball and soccer camps.
Please join us in welcoming Kate, Nikki and Lorenzo to the Yale Housing Team!
By Lisa M. Maloney, Yale Internal Communications