Address:
320 York Street, New Haven, CT
Rental Costs:
Academic Year: $6,810 - $7,762
Amenities:
All utilities included in rent (heat, hot water, electricity), Basement storage available, Coin laundry on site, Heat and hot water included in rent
---
Building Description
Built in 1932, the Gothic-style Hall of Graduate Studies (HGS) houses 168 students and is near the center of campus, Sterling Library, and Payne Whitney Gymnasium.
2017-2018 will be the final year that HGS will be open for residential living.  It will be closing for renovations in May 2018 and will be remodeled for academic space use only. 
Students in the Graduate School of Arts & Sciences have assignment priority in HGS. Due to limited vacancies in HGS each year, it is unlikely that students of other professional schools will be assigned into HGS, even if requested.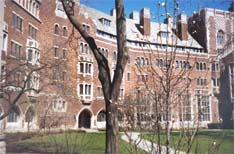 HGS is a multi-use building with classrooms, faculty and staff offices, including the Dean of Students of the Graduate School, the Graduate School's McDougal Center, as well as a student residential section. 
Elevator Access, Shared Bathrooms, and Furniture
A- and B-wing student bedrooms (3rd, 4th, and 5th floors) do not have elevator access.
The C wing ("the Tower") contains nine suites. There is elevator access to student suites or rooms located from the 2nd through 14th floors.
The D wing contains a mix of student rooms with shared bathrooms as well as standard rooms. D-wing rooms are located on the 2nd through 6th floors. There is elevator access to D-wing rooms.
Rooms have standard University-provided bedroom furniture: extra-long twin-sized bed frame and mattress, desk, desk chair, dresser, and bookshelf. All rooms or suites have built-in closets. Some rooms are provided with a cushioned sitting chair.
Internet Access, Cable TV, and Mail/Package Delivery
HGS rooms are provided with an internet port, cable television port, and telephone port. Students must activate the telephone port (via Yale University Telecom services) to use the landline telephone system. There is a separate charge for use of the telephone (and long-distance charges) but no additional charges for accessing the Internet or cable TV. Students accessing the Yale network must register their computers atwww.yale.edu/netreg for full use of the Internet.
All of HGS is on the University's wireless network for student convenience!
Students living in HGS do NOT have on-site mail and package delivery. Students can rent a PO Box at Yale Station upon arrival. Package deliveries can be directed to the Yale Student Receiving Center, 135 Prospect Street.
Other Amenities
Other services that are open to residents at any time are a basement-level University-maintained computer room, student kitchen, laundry room, and a lounge with cable TV/DVD, pool table, Ping-Pong, foosball, and air hockey game equipment.
The small basement kitchen is available for light food preparation. It has small dining table, a microwave, electric stove and oven, toaster, refrigerator, and sink. Cookware is not provided nor is storage of resident items permissible due to space and cleanliness issues. 
Security Access to HGS Residential Areas
Because HGS is part of the academic building of the Graduate School of Arts and Sciences, the main gate to HGS is open during the weekday. Students will need their ID card and keys to access the residential sections of HGS. Bedrooms are kept behind locked stairwells, hallways, or elevators. All of this security is to keep our students safe!
Other Important Information
Common bathrooms with showers are located in the hallways and shared with students of the same gender. Custodial Services stocks and cleans hallway bathrooms.
Living room furniture in suites and other units is not provided.
Mini-refrigerators are not provided but are suggested.
A- and B-wing rooms do not have elevator access.
Private, semiprivate, and suite bathrooms are cleaned by the resident(s). Students must also supply their own paper products.
Room Types
50 Standard rooms: common hallway bath (D wing)
39 Room and semi-private bath (R w/ SPB): share the bathroom with one other person whose room is on the other side (C & D wings)
9 Room and private bath (R w/ PRB) (C wing)
6 One bedroom and living room; common hallway bathroom (Br, Lr) (D wing)
25 Bedroom, living room and semiprivate bathroom (Br, Lr, SPB) (D wing)
9 Suites (25 total suite bedrooms): 3rd–14th floors; two- or three-bedroom suites. Each student has a private bedroom and shares the living room and bathroom (C wing)