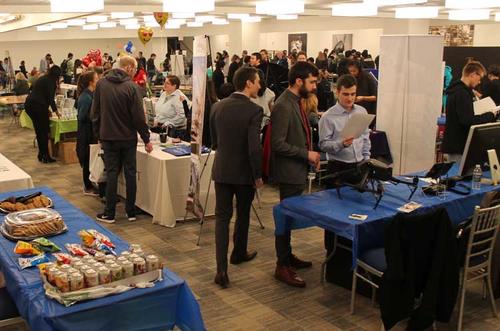 Over 300 people stopped by to meet with almost 50 vendors at the fifth annual Yale Housing Fair held February 10, 2019 at Yale on York.  Local property owners, and large and small realtors showcased their New Haven area apartments, condos and houses for rent or sale. In addition, the Yale Affinity groups had a booth and several furniture rental companies were on hand to acquaint attendees with their services.
Yale Housing offered free hot popcorn and raffle prizes that included a flat screen TV, Keurig coffee machine, and air fryer. Many vendors offered sweets, free gifts, and friendly assistance.  Attendees included a mix of students, staff and faculty looking for housing. 
The Yale Housing Office holds this annual event to help members of the Yale Community make informed decisions about their housing needs.  All featured properties were vetted through a residential licensing program that insures an inspection of each property by New Haven City officials.  "We feel it is important to offer our community the opportunity, in one venue, to see the various options available to them," said Chris R. Taylor, Student Services Housing Officer.
Planning for 2020, the Housing Office hopes to hold the event later in the year in either late April or early May.  For more information on this event, please email housing@yale.edu.