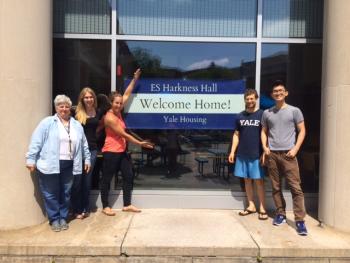 Applications open on April 20, 2020 at 9:00 am EST
Applications are accepted only in the electronic online format.
Please view our Buildings page before completing the application.
Apartment applicants - Efficiency, one and two bedroom shared units will participate in a General Room Selection process.
Family Housing applicants - assignments will be made manually by Yale Housing. Applicants will be notified by email. 
Dormitory applicants - will participate in a General Room Selection where you will choose your hall and room assignment for the 2020-2021 Academic year.  
Housing is not guaranteed. Space is limited. For other housing options, click here
Important: The university is welcoming all Graduate and Professional Students back to campus for the 2020-2021 academic year. The 2020-2021 academic year will feature a residential remote learning configuration.  While we expect that most students will return to campus, we recognize that some students cannot return to campus due to travel restrictions. In these situations, we will work to accommodate cancellation and refund requests.
License Agreement – Need to Know
License Agreement term dates for 2020–2021

Apartment:  August 1, 2020 – June 30, 2021
Dormitory:  August 1, 2020 – May 23, 2021

License Agreement Renewals

Current students (except those living in 272 Elm) looking to renew their contracts for the next academic year do not need to re-apply. Please review the Housing Timeline of processes and events, or contact the Yale Housing staff to find out more about how to proceed with renewing your contract.
Residents living in 272 Elm are only eligible to live in 272 Elm for one academic year. They are eligible to transfer to another dormitory or apartment and must indicate so during Housing Intent.

Half-Year License Agreements

Yale Housing does not offer half-year (semester-long) contracts. Students graduating midyear should discuss their situation with a Yale Housing Manager to determine if living in campus housing is the best option for them and their situation.
Fees
Due at the time of room selection:
Security Deposit Fee:

 $700.00, refundable upon vacating (plus $25 processing fee)
The following fees are posted to the students SFAS account:
Application/Processing Fee: $100.00, non-refundable one-time fee.
Residential Life Programming Fee: amount varies depending on Hall, non-refundable.
Personal Property Insurance:  $60.00 Personal Property Insurance,  non-refundable. Residents with proof of insurance may opt no later than September 1st.
Holiday Closures 
Yale Housing is closed for business during holidays some holidays and winter break. Students can remain in their buildings and rooms or travel to and from campus throughout the break periods.
Tours of  Yale Housing 
Yale Housing does not offer tours of buildings, rooms, or apartments. Please review our individual buildings' pages to see panoramic pictures of the interiors of student rooms and apartments.