Address:
276 Prospect St, New Haven, CT
Size:
Small - Special Sized Rooms
Rental Costs:
Academic Year: $5,834 - $9,948
Amenities:
All utilities included in rent (heat, hot water, electricity), Basement storage available, Coin laundry on site
---
Building Description
276 Prospect Street is a distinctive Victorian-era, converted, four-level brick structure with 36 student rooms. The building has a basement (garden) level that includes a few student bedrooms as well as bedrooms throughout the first, second, and third floors. 
Elevator Access, Shared Bathrooms, and Furniture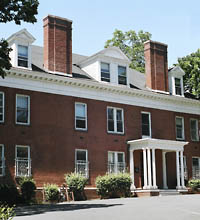 There is no elevator access to the upper floors in the building.
There are nine coed bathrooms throughout the building that all residents share.
Rooms have standard University-provided bedroom furniture: extra-long twin-sized bed frame and mattress, desk and desk chair, three- drawer dresser, bookshelf, built-in closet or a wardrobe unit for clothing.
Most rooms are carpeted.
Various-size windows have mini-blinds or pull-down shades.
Internet Access, Cable TV, and Mail/ Package Delivery
Rooms in 276 Prospect Street are provided with an Internet port, cable TV port, and telephone port. Students must activate the telephone port (via Yale University Telecom services) to use the landline telephone system. There is a separate charge for use of the telephone (and long-distance charges) but no additional charges for accessing the Internet or cable TV. Students accessing the Yale network must register their computers at www.yale.edu/netreg for full use of the Internet.
All of 276 Prospect Street is on the University's wireless network for student convenience!
Students can receive mail directly at 276 Prospect Street. Mail is delivered directly by the U.S. Postal Service. Mail is sorted into unlocked student mailboxes by the Resident Coordinator staff. Package deliveries can also be received at the residence.
Other Amenities
The first-floor lobby and common room has a TV and DVD player, Ping-Pong table, foosball table, and various games for students to play. Vending machines for students to purchase small snacks and sodas are located near the entry.
Other amenities:
University-maintained computer lab with printer 
basement laundry room
basement storage room
ground-level bicycle room and storage room
small backyard with picnic tables and barbecue grill
The two kitchens, in the basement and on the second-floor level, foster a strong sense of community among residents. Each kitchen is furnished with electric stove and oven units, full-sized refrigerators, microwaves, toasters and other various shared appliances, and cupboard space. Residents must supply their own dishes, pots, and pans. 
Security Access for Residential Areas
The front doors of 276 Prospect Steet are locked. Students use their Yale ID card to access the building and a key to open their bedroom door.
Room Types
Student Room Sizes, approximate dimensions:
4 Small
7'x11' - on average, 92 sq ft
12 Medium
10'x10' - on average, 135 sq ft
10 Large
11'x12' - on average, 160 sq ft
7 Extra-Large
12'x14' - on average, 220 sq ft
2 Special
250 sq ft or larger, sometimes with personal sink
Floor Plans and 360 Virtual Tours
These are sample floor plans only. Each dormitory room may vary in floor plan and size.
Basement Kitchen
Li

ving Room

Lobby
Second Floor Kitchen