Address:
291-309 Mansfield Street, New Haven, CT 06511
Amenities:
Air-conditioning throughout, All utilities included in rent (heat, hot water, electricity), Coin laundry on site, Parking for one car per unit available and included in rent
---
Building Description (Apartment)
The Mansfield Apartments consist of five buildings (49 units) situated on a landscaped slope about a 15-minute walk from the center of campus. All buildings are equipped with wireless Internet service. There is one apartment in this complex that are ADA designed. Please contact the Student Accessbility Office for more information.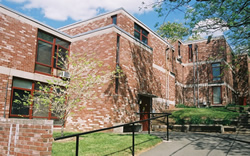 Mansfield Apartments were recently renovated (2018 - 2021) and include vinyl flooring throughout the unit, and kitchenette that includes an electric stove and refrigerator leaves ample scope for residents to design their living space to fit their needs. There is overhead lighting in the kitchen and bathroom. Lamps are required in the bedrooms and living areas. Each apartment is equipped with mini-blinds on the bedroom and living room windows and a doorbell/intercom system.
Facilities and Other Features
The Community Room has a TV and is used exclusively for activities such as small gatherings, study groups, and movie nights. Residents of the Mansfield complex share this Community Room.
Residence Life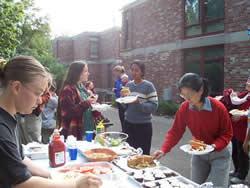 Community Fellows facilitate a community atmosphere by planning social events and activities throughout the year. The Mansfield Apartments are not suitable for children. Additionally, each apartment is equipped with central air conditioning. 
Floor Plan and 360 Video
These are sample floor plans only. Each apartment may vary in floor plan and size.