What is the Swap Room?
"Take what you need, leave what you can"
The swap room was founded in 2010 by graduate housing residents interested in sharing gently used clothing items and hoping to avoid some of the unnecessary waste involved with the annual move in and move out cycle each academic year.  What began as a small children's clothing swap has now grown into robust program with dedicated space and staff committed to increasing sustainability and offering programming focused on reuse and recycling.  The swap room has regular open hours every week when resident can contribute their gently used clothing and household goods or browse the selection of donated items to find treasures of their own. The swap room continues to exist thanks to the generosity of residents who support it through their donations each year and embodies the spirit of neighborliness that Yale graduate housing communities are known for.
Location
It is located in the basement of 533 Prospect Street with open hours every Thursday night from 7PM - 9PM with additional "extended" open hours during move in and move out, and by emailing: swaproom.whitehall@gmail.com.
Programs
The Swap Room and Swap Room Coordinator host many programs throughout the year. Weekly open hours along with an available Singer sewing machine for resident use are ongoing throughout the year. 
Some Annual events include:
Spring Yard Sale  

Winter Pot Luck and Recipe Swap

Big Book Swap

Winter Wear Weekend

Pop-up Swap Rooms at other buildings

Much, much, more! 
Community Garden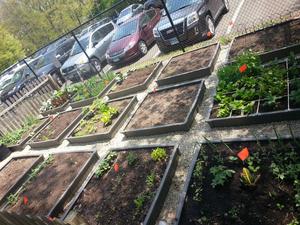 The Swap Room Coordinator works closely with Grounds Maintainence to organize the  Community Garden, running a LIVE lottery each year for the open plots. The Community Garden is available for residents to grow and maintain their own plants throughout the warmer months!
**The Swap Room focuses on Yale University's sustainability initiatives**
For more information on how to live sustainably in New Haven, visit the following link: https://campuspress.yale.edu/sustainablenewhaven/
Spring Salvage Program
In an effort to reduce waste and the disposal of quality used furniture, Yale Housing runs a furniture adoption program to help families in need, while reducing the number of items sent to our landfills. This program is only available to the residents living in 68 Mansfield, York Crown, Whitehall, Esplanade, and Mansfield buildings during the months of April - October. Please visit the Spring Salvage Page to submit a piece of furniture or view adoptable items!